July newsletter
Greetings Falstaffians,
Whether you've been isolating, working from home, home-schooling or on the front-line, we sincerely hope you've all been keeping well during these extraordinary times.
We're very much looking forward to opening our doors, this Saturday, 4th July. We've been cleaning, training and zooming and making changes to the Hotel so that we are ready to welcome you. We've carried out the risk assessments, adapted our offering and put in place a number of hygiene and safety measures so that you can relax and feel completely safe during your time with us. Our staff will be issued with PPE, fully trained in health and hygiene procedures and in their responsibility both to our guests and to their colleagues.You can view our best practice protocols here.

We will be providing a convenient "breakfast in a bag" for you to enjoy in your bedroom as per government guidelines. You can enjoy a drink on our outside terrace in the sun, and if you're staying over the weekend, we're delighted to announce the return of our authentic Neapolitan pizza served from Friday till Sunday evenings. Why not order a take-out afternoon tea to have whilst you're exploring the outdoors – comprising a selection of sandwiches, scones with jam and cream, and a slice of cake?
There are lots of other local restaurants and delicious street food joints to choose from for lunch or dinner. Many are open now for take-outs and they're looking forward to welcoming seated guests again (with social-distancing and hygiene measures in place).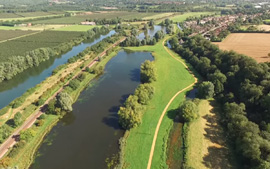 We're very lucky to have so much wide open space on our doorstep and we're thrilled to see the reopening of our shops and local businesses. The 100-acre Howletts wild animal park is home to nearly 400 animals including African elephants, western lowland gorillas, tigers, lions, leopards and much more. Enjoy a round of golf at one of the many courses within easy distance, or hire a bicycle and explore one of the picturesque and traffic-free cycle routes on our doorstep. The Great Stour Way takes in 3 miles of tranquil scenery along the banks of the River and the coastal haven of the Sandwich and Pegwell Bay Nature Reserve is under 30 minutes' drive away.
We'd happily share some of our local 'hidden gems' with you. We'd love to hear how you are faring and whether you have any feedback on our newsletter, or any suggestions of other things we might do to welcome you back. Do drop us a line on [email protected].
We look forward to seeing you soon!
With best wishes
The Falstaff
.