Covid-19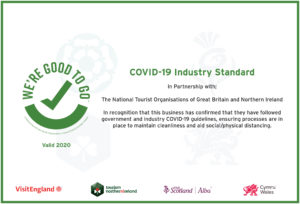 Come and enjoy a stay in sunny Canterbury and take advantage of our wide open spaces, gardens, nearby beaches and nature reserves.  We are regularly reviewing our safety procedures in line with Government guidelines and will keep you updated of these. Our core aim is to ensure that both our guests and staff are safe whilst in our Hotel.
Our Cancellation Policy:
In response to changing conditions, we're committed to ensuring our guests enjoy peace of mind and flexibility. For all guests with a flexible booking for any future arrival date, we will happily move your reservation or accept cancellation without charge up until 24 hours prior to arrival. For all guests with an Advance or Early Bird bookings for any future arrival date, we will happily move your reservation up to 12 months from the original arrival date, if you contact the hotel up to 24 hours prior to arrival.
Please note that any changes to existing reservations will be subject to availability and any rate differences.  This policy does not apply to travel associated with a Group booking.  Please contact our Reservations Manager directly in this instance via [email protected].
Our commitment to your safety:
We're adapting our service in compliance with government regulations. The following measures will be in place and adapted according to any new government regulations:
Social distancing
You will notice signage in our public areas to remind guests to maintain social distancing protocols. We are taking measures to minimise contact between guests (for example separate entrance to and exit from the hotel) and we're eliminating the need for check out at reception.
Cleanliness
We have added to our already rigorous cleaning protocols in public areas and made them more frequent, especially all touchpoints. Handwashing for our staff is being regularly enforced. In-room touchpoints have been minimized and non-essential products, like magazines and decorative cushions, have been removed.
Hand sanitation stations
hand sanitiser will be available on every floor of the hotel and throughout all public areas.
Temperature checks
All staff will have their temperatures checked at the beginning of every shift.
Personal Protection Equipment
Face masks and gloves will be available from reception for guest use. All our staff will be fully equipped with PPE and perspex screens will be used at Reception.
Staff training
Our staff will be fully trained in these measures. There will be stringent operating procedures in place if anyone (guest or staff member) starts to feel unwell whilst on the premises.
If you have any queries concerning your stay, please don't hesitate to contact us via email here.